Top Five Volkswagen Lease Cars for Camping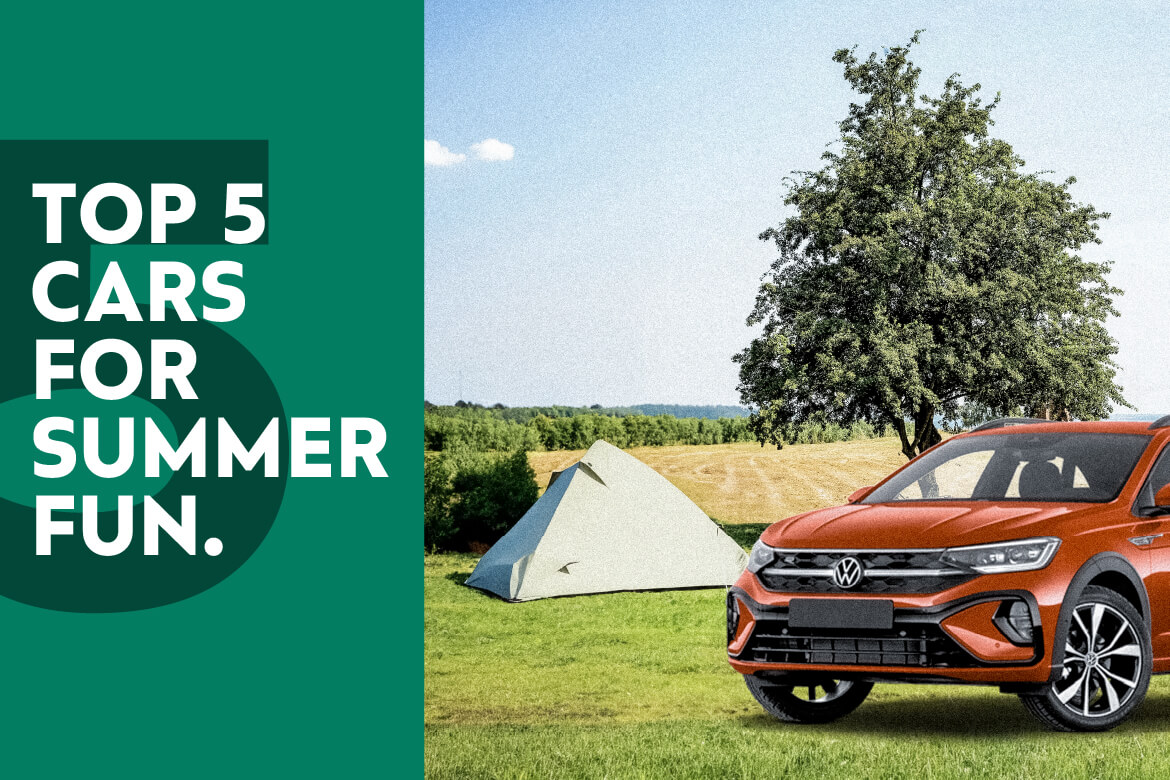 Do you love camping? Packing your car up and pitching up on the other end can be quite stressful, so take the hassle away with our list of the top 5 Volkswagen cars for camping! From fully fledged camper vans to roomy SUVs, there's something for every camping style.
Plus, with personal car leasing you can upgrade your car every few years to keep up with your growing camping crew or the latest tech! Read on for your guide to the best Volkswagen lease cars right now…
You'll be hard pressed to drive anywhere and not see a Volkswagen on every street. That's because the German car brand has established itself as the symbol for reliable and affordable cars all around the world.
Known for their durable and strong mechanics, a VW car has less chance of needing repairs than some other car brands. Plus, you can always roll our handy maintenance package into your monthly lease payments for that extra peace of mind.
So, yes, Volkswagens are reliable cars and will often be an affordable leasing option. They're also fun to drive and offer a really comfortable driving experience. Our Volkswagen PCH deals tick all the boxes – from reliability to great performance and low running costs! And there are even some which would make great camping mobiles…
Is the Taigo a good camping car?
First of all, let's take a look at what makes a car 'camping worthy':
Space for all your gear
A comfy ride for those long road trips
Loads of safety tech to keep your camping crew safe


The Taigo offers all of this AND more…
Inside it's full of nifty storage to pack all your kit away. From seatback pockets for those last-minute additions to a 440-litre boot for the big family tent, you'll have plenty of room. The slightly pricier T-Cross and T-Roc models only have a few more litres of boot space, so it's pretty competitive in this area. Step outside the car and there's even more storage spots. Whether you're taking your bike or canoe with you, the handy roof rails are great for storing all of your adventure gear!
Safety might also be high on your list if you have kids in tow and are covering long distances. The Taigo received an impressive five-star rating in the Euro NCAP testing last year. With emergency braking, park assist, lane change assist, and travel assist (just to name a few), it's one of the safest small SUVs on the market.
Plus, the semi-automated driving assistance system makes the Taigo a breeze to drive. On the motorway there's not much wind or road noise, and all the tech takes a lot of the hassle away. When it comes to country roads, the firm suspension and grippy tyres ensure that the car is firm and controlled around corners./p>
Why lease a VW Taigo
✅︎ Plenty of space
✅︎ Safe car for long road trips
✅︎ Comfy and easy drive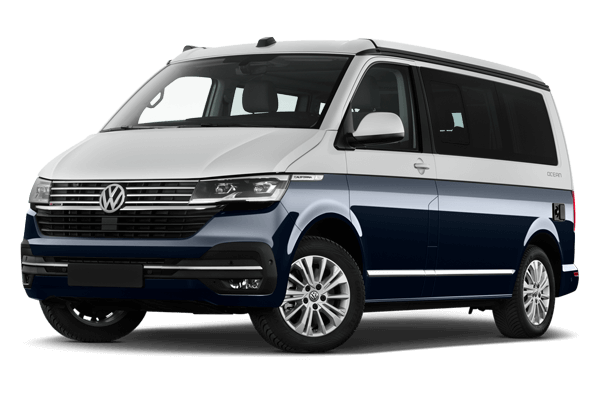 What makes the California Estate Ocean so great
If you're not a fan of unzipping your tent door and waking up in a boggy field on a Sunday morning, feast your eyes on this camping beauty. The California Estate Ocean is a sleek and modern camper van kitted out with (almost!) everything you could need for a luxury camping holiday.
Climb aboard to enjoy:
A camping table packed away into the sliding door
A 2-seater bench that folds down into a 2-person bed
Kitchen with gas hob, sink and 42 litre cool box
Roof bed with spring plates and mattress (operate via an electric roof)
Front row swivel seats
Fold out awning
Plus, much more!
Space wise, there are loads of places to store all your home comforts. Up front you'll find big door pockets with a built-in bottle holder, two gloveboxes, and a couple of pop-out cupholders. The seats even have handy drawers underneath to store your torches and emergency first aid kit (that's an important one!). In the back you'll find plenty of cupboard space for all your kitchen bits too.
So, what's it like to drive? For a camper van, it's a pretty firm ride. The California's precise steering also helps keep it smooth and breezy. Overall, performance wise it's pretty good and feels more agile than some other campers on the market, like the Mercedes Marco Polo.
Why you'll love the California Estate
✅︎ Well thought out interior
✅︎ Bags of room and storage space
✅︎ Handles well by camper standards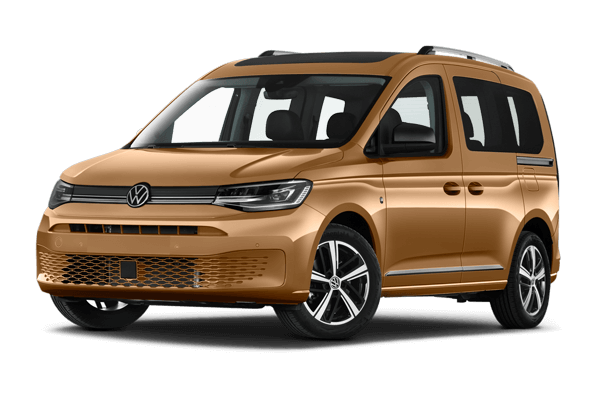 Why the Caddy Estate is the perfect camping car
As people carriers go, this one is sleek, drives like a car, and actually brings the fun element. Shocking, we know! It's essentially a small van-based people carrier that looks good and drives good.
A lot of the Caddy's parts have been taken from cars like the infamous Golf, so that's already a great start. The interior also resembles the latest VW Golf. It has a smart dashboard to enhance your driving experience and feels like a car inside.
It's not just a great ride for camping though. Its tiny turning circle and car-like suspension make it a fantastic day to day drive. Whilst it lacks the high-up driving position of an SUV, you can't knock the visibility when behind the wheel. With big mirrors and narrow windscreen pillars, it's easy to navigate around town and slip into those tight parking spots.
If you want bags of space for all your camping kit but don't want to compromise on the driving experience, the Volkswagen Caddy Estate could be the perfect choice for you. With 1213 litres of boot space, you can practically take your whole house with you.
There's more than enough room for backseat passengers to enjoy a comfy journey too. And, if the weather takes a turn for the worst, you can eat your dinner on the fold out tables on the back of the front seats. The Caddy was made for camping in the great British summer!
Three reasons to lease a Volkswagen Caddy Estate
✅︎ Car-like driving experience
✅︎ Loads of space
✅︎ Versatile ride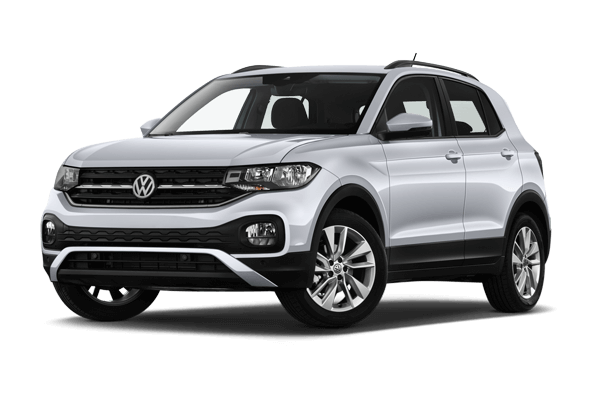 Is the T-Cross a good car?
Yes, it's an affordable and surprisingly spacious small SUV that makes for a great camping car.
Inside you'll find door bins, trays, cubbies, and cupholders galore for all the road trip snacks. You're going to need some energy for when it comes to pitching your tent on the other side! In the back you can easily slide the rear seats forward or back. This easily frees up more room for when it comes to packing the cooler box, camping chairs and the rest of your camping set up. Like the Taigo, the T-Cross also comes with roof rails so you can store all your adventure bits up top.
If you ever embark on a major camping trip like the famous NC500 along the North Coast of Scotland, 1. We'll be very jealous and 2. You'll want a car that's easy and comfy to drive.
The T-Cross is compact and easy to drive on city roads, motorways, and twisting country roads alike. In towns the light steering is particularly helpful, whilst the raised height makes parking a doddle. Take to a twisty road and you'll find the car grips well and doesn't lean much around corners.
The T-Cross comes with loads of great equipment as standard, including:
Lane assist
Front-wheel-drive
Blind spot direction
Adaptive cruise control
Autonomous brake assist
Why get a T-Cross PCH lease deal
✅︎ Generous boot space
✅︎ Great interior storage
✅︎ Loads of standard equipment
Why we love the Golf Alltrack
The VW Golf Alltrack is a taller, four-wheel drive version of the Golf Estate and it just screams UK camping. Its light off-road abilities mean it's able to cruise across a muddy field without much fuss making your departure day that bit easier. The off-road mode activates hill descent controls and adapts the brakes so they can take on uneven surfaces. This is handy if you're ever driving off the beaten track to your campsite (and we all know the harder the site is to reach, the better the views will be!).
605 litres of boot space make this 5-seater the perfect family camping car. You'll easily fit all the gang's stuff – including your dog's 500 toys (Pssst… check out our guide for driving with dogs) – in this boot! Plus, the raised suspension makes it easy to slide heavier items in and out of the boot. This should make the setting up and packing away process a little easier.
The 2.0-litre diesel is a punchy engine which offers good pulling power when the car's filled to the max. Unsurprisingly, it drives much like a regular VW Golf with the added ability to take on muddy campsites or snowy winter roads (if winter camping is your thing).
Top benefits of the Golf Alltrack
✅︎ Loads of room in the boot
✅︎ Capable on different terrains
✅︎ Familiar driving experience to the Golf
There you have it, Volkswagen's best camping cars as of 2023. Spoilt for choice? Our New Car Consultants are here to help you make the right one. They know everything there is to know about cars, so you don't have to! Give them a call on 0113 537 3860 (option 1) or drop them an email [email protected].
Already made up your mind? Go ahead and order your new car 100% online. Enjoy leasing on your terms – you choose the mileage, length of lease, initial payment, and monthly payments. Plus, you just need to pay £99 (£199 for used cars) today and the rest when your car is ready for delivery. Just Zen It!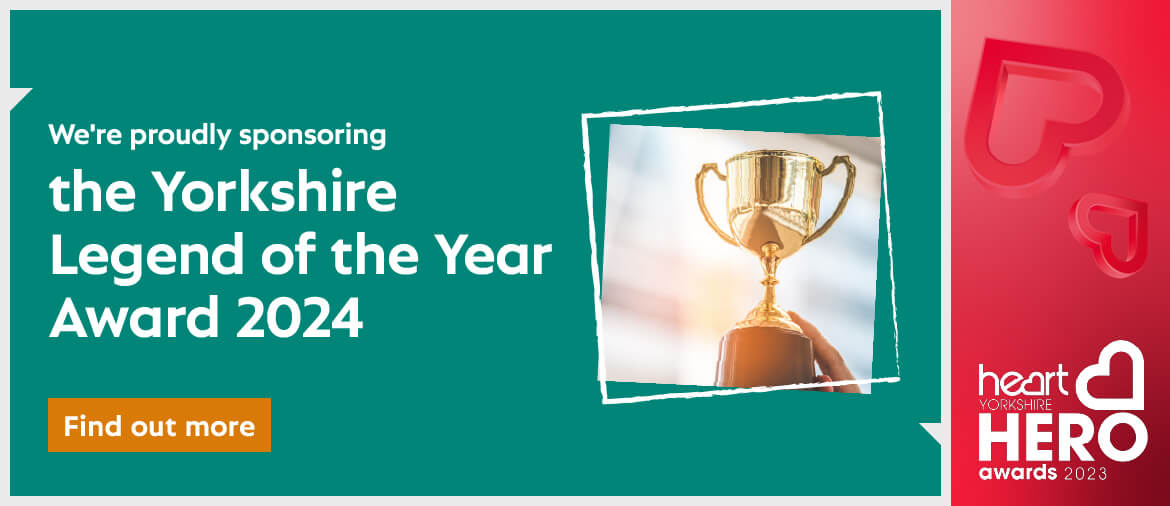 Posted on: 14th August 2023