Fully customisable cars
With our fully customisable cars (AKA factory orders) you can design your dream ride – from the sleek interior trim to the aggressive alloys – it's time to put your stamp on things. Just spec your wheels, build your lease, and order your car all from your phone.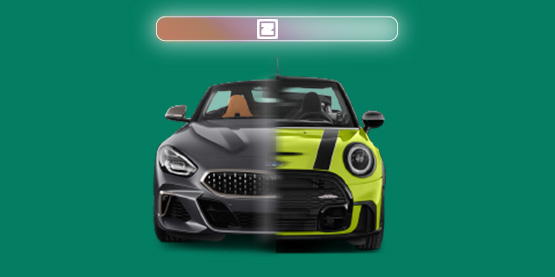 So, what is a factory order?
A factory order lease works practically the same as one of our stock car leases. What differs is the spec and range of cars available to you, as well as the time you'll be waiting to get it. Let's go over the basics together.
The difference between factory order and stock car deals
When you lease a fully customisable car from us, AKA a factory order deal, the order process is pretty much the same as when you lease an 'in stock' car. You'll choose your terms, fill out a credit application, sign the agreement and be ready and waiting for your new car day just like you expected.
There are just a couple key differences between a factory order and stock car lease:
Customisable car lease
Our factory order cars are supplied based on your chosen options and specification by the manufacturer when you order from us. This ensures you get to drive your dream car, tailor-made to your needs. From the alloys to the interior trim, it'll all be chosen by you.
More car leasing options
Before you even get to customising you car, you might have a job on just trying to pick one from our factory order selection! ZenAuto picks the most popular cars to feature in our stock range, but you can always find a wide variety of different specs and more unique models as part of our factory order range.
Factory order lease lead times
The extra freedom you get during ordering also comes with an additional wait for your car. Most of our in stock lease deals are available within 4-6 weeks, but a factory order car is usually built to your specifications. It is likely you will have to wait a bit longer for a factory order lease deal to arrive. That might be something you're perfectly ready to do to get that dream car you've always wanted!
ZenAuto is all about giving you the options you need to make the most of your lease. So whether you're a BMW fanatic looking for the very latest model in your favourite colour, or just need a little extra time to sell your old car before your new one arrives, there's always a factory order waiting for you.
Our factory orders
When you lease a car with us you can either lease a factory order or one of our in-stock cars – the process is the same for both, the only differences are the spec of the car and when it will be delivered to you.
A factory order is a car that's built just for you, so you get the ultimate control over the spec, any optional extras, and the colour of the car. Plus, with a factory order you'll be able to pick from a greater range of cars and get access to the latest models – anyone fancy a VW Caddy or a Lexus RZ?
Whereas our in-stock cars are already built and ready to go, so if you need a new car quick and you're not bothered about being able to customise it you might prefer to lease an in-stock car. But if you fancy customising your car to exactly how you want it and you don't mind waiting a bit longer to get your dream car, then a factory order could be the one for you. You can learn more about factory orders over on our dedicated page.
The top reasons why our customers choose a factory order: • You can customise the car and put your stamp on things • You'll get access to the latest models and newest reg plates • You'll have enough time to sort out your old car before your new one arrives Fancy enjoying all that plus the usual Zen goodies like free Mainland GB delivery along with breakdown cover, road tax, and the manufacturer's warranty included in your lease? Just Zen it!
Whether you order an in-stock car, or a factory order the ordering process is pretty much the same, except you have the option to customise a factory order when you build your lease.
So, what's the deal?
It's all online and will be done in no time! You just build your lease and customise the car to how you want it, submit a credit application, sign your agreement, and then wait for new car day all without leaving your sofa.
If you need a hand our New Car Consultants are just a call or email away! You can reach them on 0113 537 3860 (option 1) or email [email protected].
PS.PS. Don't forget to add our shiny maintenance package to your lease! Make your life easier and spread the cost of MOTs, servicing and tyre TLC.
If you opt for a factory order, you'll have the flexibility to customise your car with any of the add-ons available for that specific car. A factory order is built just for you, so it's tailored to your requirements – you'll be able to choose the trim, add any optional extras and pick the exact colour that you want. Ready to put your spin on things with a factory order? Browse our new car deals to find your dream wheels
Since a factory order is built from scratch when you place your order, it will take longer to arrive than if you opted for one of our already built in-stock cars. But good things are worth the wait, right?
If you're eying up a factory order and want to know how long delivery could be just reach out to our New Car Consultants before you order – you can ring them on 0113 537 3860 (option 1) or just email [email protected]. Depending on the car you want and the spec, we'll then find out the expected lead time for you. If you decide to go ahead and order the car, we'll then give you regular updates on the status of your order and send you all the info you need ahead of new car day.
Three reasons to lease a factory order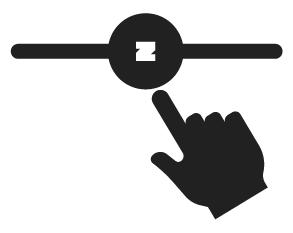 Spec your car, your way
You're not like everyone else, so why should your car be? Whether it's a spacious Volvo for the whole gang or a nippy little BMW for all the driving thrills, you can customise your car to your exact specifications (within reason of course – we can't make it fly!).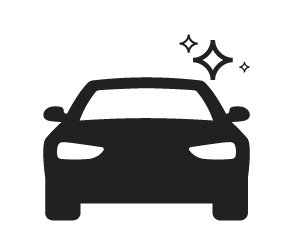 Get the latest model
With a factory order you'll get access to all the newest models and reg plates. So, you could be driving around in the latest and greatest wheels about. Want to make your neighbours really jealous? Lease one of our shiny factory order cars today and level up your driveway.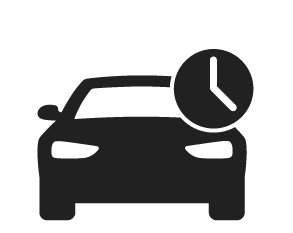 Time to sort your old car
Since a factory order is built just for you, you might have to wait a little longer for it. This means you'll have time to sort a new home for your current car (our pals at Carwow can help with this) and get sorted for your new one.