Car maintenance package
Do it the Zen way and spread the cost of your car maintenance. You'll never have to worry about finding that big payment when you need a service, MOT, or a spot of tyre TLC.

Take the stress away and choose the maintenance package today!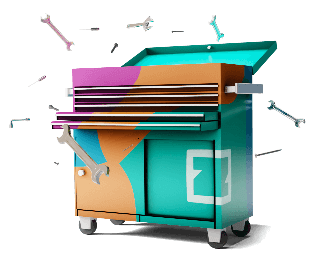 How do I sign up for the maintenance package?
You can do it in two easy steps. First you need to pick your new ride. Then when you customise your lease, just add the maintenance package option – you'll find it under 'Extra Services'
Find your car
Not sure what to do? Compare the two.
| The service | Without | With |
| --- | --- | --- |
| Breakdown cover inc at home | ✔ | ✔ |
| Road fund licence | ✔ | ✔ |
| Breakdown cover abroad | ✔ | ✔ |
| Help if you fill up with the wrong fuel (for a charge) | ✔ | ✔ |
| Servicing, including booking with an authorised dealer | | ✔ |
| MOTs | | ✔ |
| No quibble tyre repair | | ✔ |
| Replacement tyres | | ✔ |
| Help with manufacturer warranty claims if you need it | | ✔ |
| Repairing vandalism damage | | |
| Recovering keys if you lock them in the car | | |
| Repairing alloy damage | | |
If you'd like to ask us more about the package, give the team a ring or email us.

Maintenance
The VIP treatment. You can come to us to help sort your car's maintenance throughout your lease.
1.All the servicing that the car needs during the lease, we'll find a garage and even book it in at a convenient time for you.
2. MOT tests (if your lease is long enough that you need one)
3. Replacement tyres (if you get a puncture or due to general wear and tear)
'Fair wear and tear' damage is caused through normal use of the car. You can get the full low down on all things maintenance related here.
If you don't go for our maintenance package, then you'll need to take care of the car's maintenance yourself.
There's no one fixed price for the car maintenance plan. The monthly price is different depending on the car and lease terms. A variety of factors influence this including the model of the car, the amount of mileage and the length of the lease.
To give you a bit of steer, based on 5 of our most popular cars the maintenance package is an average of £27.18 per month. That's £978.48p across a three-year lease. **
To work this out we found the average maintenance price of the following cars (18/04/2023):
**This calculation was based on a ZenAuto lease plan of 3 years with a £1250 initial payment and 8000 miles per year.
You do. Most cars have service lights, but we'll remind you once a year too.
You have to get your car serviced in accordance with the service schedule for your car. Each car can vary, so it's always best to check. When your new car arrives, just check you car's service schedule in the handbook.
Let us do all the hard work for you by including our 'Maintenance Package' – it includes servicing, MOTs and even replacement tyres. If you don't fancy that then our friends at Book My Garage can help you find someone local and reputable to service your car, they're right here.
Keep hold of the service paperwork as we'll need this when you return the car. The glovebox is a handy place to stash it!
No, you're not just restricted to the dealership. You can get your service done at any VAT register garage, as long as they use manufactured approved parts.
All new cars come complete with the manufacturer's warranty. If you have a used car then our 'used car promise' applies too. Outside of anything covered by the warranty or the 'used car promise', you're responsible for the repairs.
Obviously you're responsible for any faults that you cause (so make sure you don't mis fuel)!