Car maintenance package
Do it the Zen way and spread the cost of your car maintenance. You'll never have to worry about finding that big payment when you need a service, MOT, or a spot of tyre TLC.

Take the stress away and choose the maintenance package today!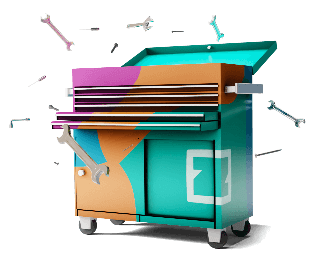 How do I sign up for the maintenance package?
You can do it in two easy steps. First you need to pick your new ride. Then when you customise your lease, just add the maintenance package option – you'll find it under 'Extra Services'
Find your car
Not sure what to do? Compare the two.
| The service | Without | With |
| --- | --- | --- |
| Breakdown cover inc at home | ✔ | ✔ |
| Road fund licence | ✔ | ✔ |
| Breakdown cover abroad | ✔ | ✔ |
| Help if you fill up with the wrong fuel (for a charge) | ✔ | ✔ |
| Servicing, including booking with an authorised dealer | | ✔ |
| MOTs | | ✔ |
| No quibble tyre repair | | ✔ |
| Replacement tyres | | ✔ |
| Help with manufacturer warranty claims if you need it | | ✔ |
| Repairing vandalism damage | | |
| Recovering keys if you lock them in the car | | |
| Repairing alloy damage | | |
If you'd like to ask us more about the package, give the team a ring or email us.

Maintenance
The VIP treatment. You can come to us to help sort your car's maintenance throughout your lease.
1.All the servicing that the car needs during the lease, we'll find a garage and even book it in at a convenient time for you.
2. MOT tests (if your lease is long enough that you need one)
3. Replacement tyres (if you get a puncture or due to general wear and tear)
4. Exhaust and battery repairs (fixes or replacement through due to air wear and tear)
'Fair wear and tear' damage is caused through normal use of the car. You can get the full low down on all things maintenance related here.
If you don't go for our maintenance package, then you'll need to take care of the car's maintenance yourself.
You do. Most cars have service lights, but we'll remind you once a year too.
You have to get your car serviced in accordance with the service schedule for your car. Each car can vary, so it's always best to check. When your new car arrives, just check you car's service schedule in the handbook.
If it's a new car, you won't have to MOT it unless you're on a three or four-year lease. Plus, if your car is due to be returned within the 4 weeks leading up to your MOT due date, you'd need to have your MOT carried out prior to returning the car.
Let us do all the hard work for you by including our 'Maintenance Package' – it includes servicing, MOTs and even replacement tyres.
Keep hold of the service paperwork as we'll need this when you return the car. The glovebox is a handy place to stash it!
No, you're not just restricted to the dealership.
If you're on our maintenance package you must choose from our network of approved garages. We've done all the work to find the best reputable garages, so you don't have to! All you need to do is book your MOT/service online or contact us and we'll take it from there.
If you've not got the package, you can get your service done at any VAT registered garage, as long as they use manufactured approved parts. Remember, it's your responsibility to find the garage and get booked in.
Absolutely. We'll email you in advance of the due date. You can also check the due date using this handy government tool.
For new cars you'll only need to MOT them if you're on a three- or four-year lease. And if your car is due to be returned within the four weeks leading up to your MOT due date, it's your job to MOT it before the car comes back to us.
Used cars will have at least 3 months on the MOT. If the MOT needs to be done during your lease then you'll need to sort this yourself (unless you're on our shiny maintenance package... nudge, nudge)!
All new cars come complete with the manufacturer's warranty. If you have a used car then our 'used car promise' applies too. Outside of anything covered by the warranty or the 'used car promise', you're responsible for the repairs.
Obviously you're responsible for any faults that you cause (so make sure you don't mis fuel)!