Emma Jones and Sam Quek take an EV Road Trip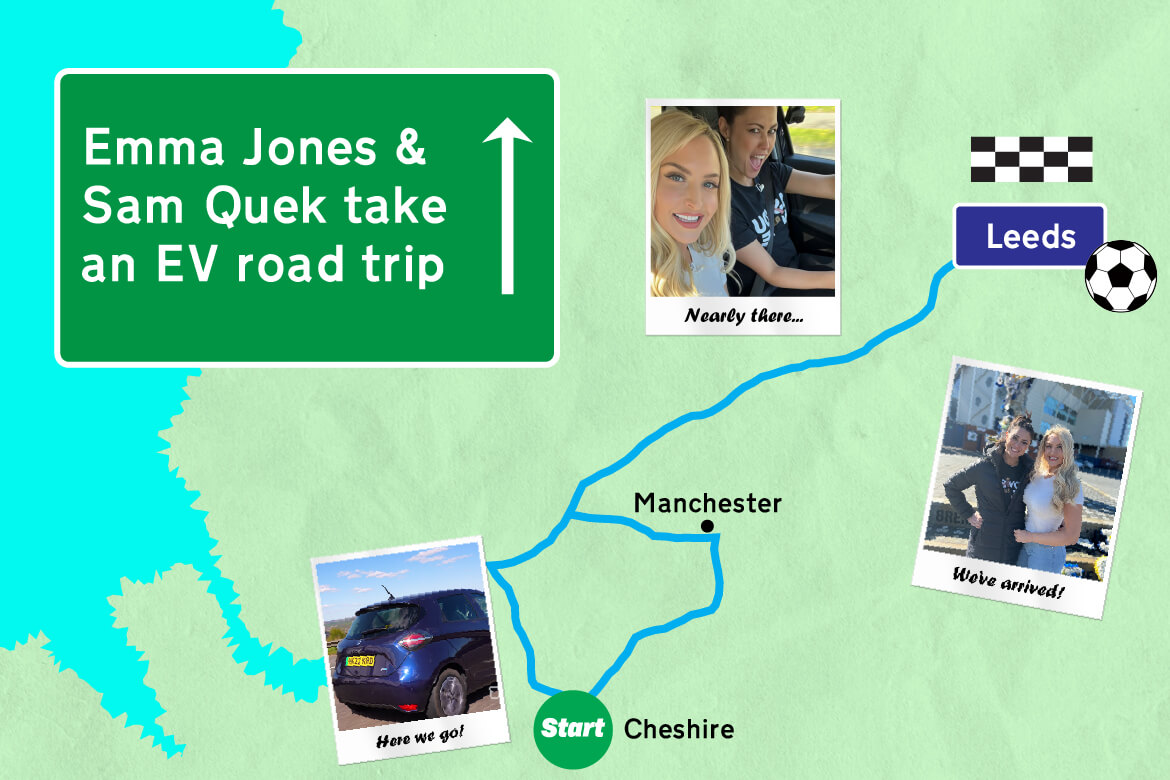 BBC Sport Presenter, Emma Jones and former England field hockey defender, Sam Quek recently took an EV road trip. They needed the right wheels to get them to Elland Road for last month's Leeds Vs Liverpool game.
We hooked them up with a Renault Zoe. It's affordable, smooth to drive and has a 200-mile range – impressive stuff for a car of its size! With a Zoe you'll have more money to go adventuring on road trips and you won't have to worry about charging it loads along the way. It's the perfect road trip ride.
Let's see how Emma and Sam's 150 mile journey went…
The route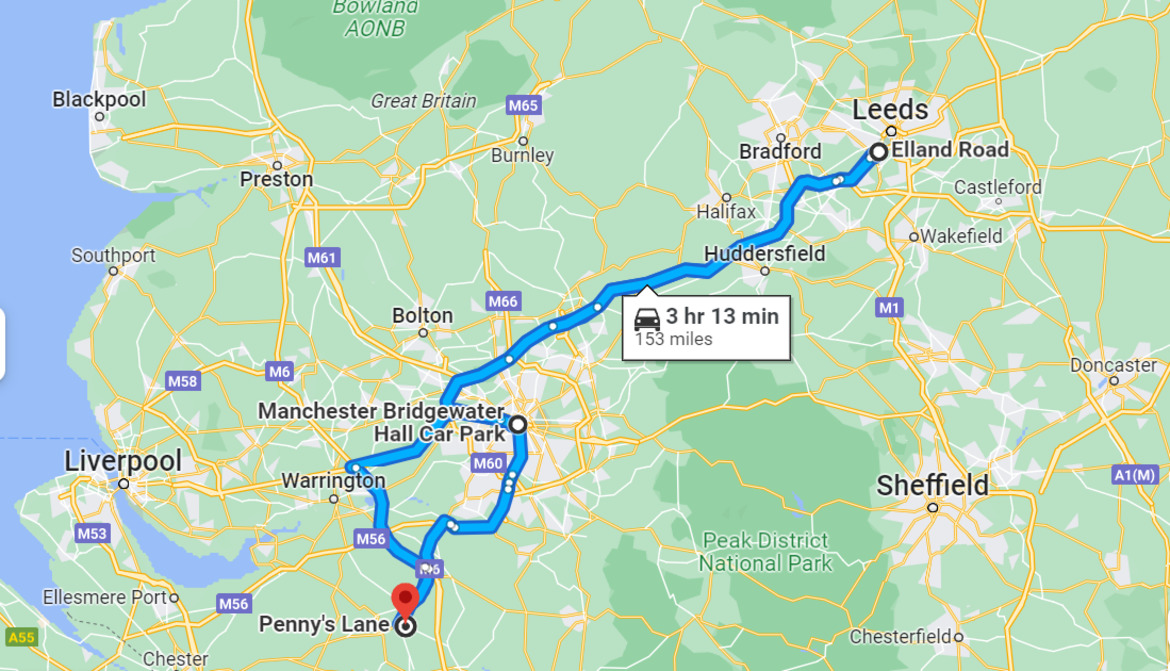 The rival fans set out to see if they could get all the way to the match and back in one full charge. Challenge accepted!
Starting off in Cheshire, Emma drove to Manchester to pick up her good pal Sam. Once the Liverpool fan was on board, they headed to Elland Road. On the way there, they enjoyed some singalongs (specifically Spice Girls), a good catch up and some football chat. But with such a thrashing from Liverpool, that had to be one awkward drive home!
Emma and Sam talk all things EVs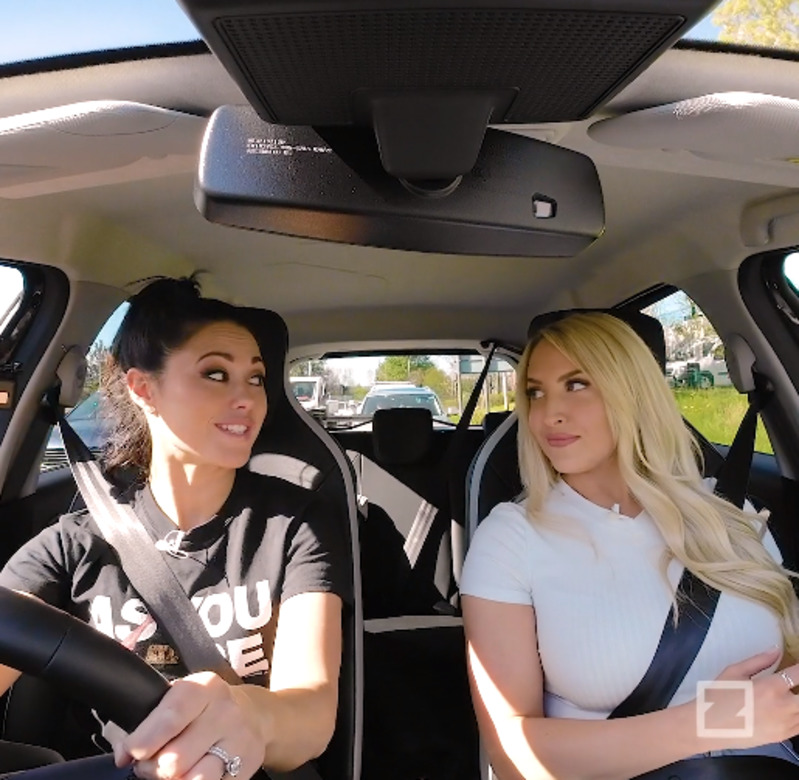 Have you ever driven an EV before today?
Emma: I've driven a hybrid but not on motorways. With the Zoe, I was really surprised at how quickly you can accelerate and how quiet it is.
Sam: Yeah, it's a really nippy car for its size! I drove an EV pre-COVID, like 2018. I'm presuming that technology has completely changed since then. I doubt I would have been able to get to Leeds from Manchester in a single charge, let alone back again.
Having no engine makes such a difference to the noise levels whilst driving. You keep thinking the engines off and then you remember there isn't one!
Emma: You can have a conversation when you're in an electric vehicle. I'm quite loud anyway, but in a diesel or petrol car you feel as though there's so much external noise. When we were chatting on our road trip, we could actually hear one another super clearly.
Sam: We were loving it. We were singing away to Spice Girls and had so much fun!
How did you feel about EVs before driving one? Did your perception change after getting behind the wheel?
Sam: I was really excited to drive one again!
Emma: One of my concerns was how far you could get in an EV. But when I was driving and checking the mileage, I realised it's fine. The mileage doesn't just drop really quickly, it seems to last ages.
Sam: We had the air con on too.
Emma: Yeah, we did, and it was absolutely fine. Everything about the Zoe is easy, it's such a straightforward car to drive. It's automatic which makes it easier and it's super lightweight.
Did you think you'd be able to do the trip in one charge?
Sam: No. Well, I thought we'd be able to do one way but not the whole round trip without charging.
Emma: We stopped at services and Sam asked if we should charge it. I said no, I'd been checking the miles and I knew we had more than enough to get us home.
Did you have to prepare for the journey any differently than if you were going to the match in a petrol/diesel car?
Emma: No, not at all. Obviously, I didn't need to fill the tank up, which was nice. But I knew I could get all the way there and back without charging, so there was nothing to sort.
Regarding any stresses or anxieties around EVs, I didn't have any. And I truly mean it! It was a very straightforward journey.
Sam: I sat back and relaxed for most of the journey [laughs]
The charging infrastructure is a lot better nowadays anyway. It's so much easier now there are more charging points about. There's really no need to stress.
Would you feel comfortable driving even further in an EV e.g., taking an EV abroad on a road trip?
Both: YES!
Emma: Where are we going on holiday Sam? [both laugh]
Sam: Let's drive to Spain! We'll get on the ferry and take a road trip.
Emma: I genuinely would be comfortable driving further in an electric vehicle. Before driving this car, if someone had asked me to drive to London in one, I'd have been like no way! But I actually think I could get all the way to London from my house on one charge.
There's nothing anxiety or stress inducing about it. There's a load of charging apps you can get to help plan your EV road trip too. I'd be so down to go on a longer journey!
Could you imagine factoring charging into your day-to-day routine?
Sam: I've got a one-year-old, a two-year-old, a husband and two dogs. By the time we've got home, had dinner, and done the bedtime routine I worry that I'd forget to put the car on charge. Saying that, it would probably just become part of your daily routine.
Emma: Yeah, and you'd only have to forget once to never do it again, right? It takes 30 seconds to pop your car on charge. Plus, a lot of new builds these days have charging points, so EVs are being integrated more and more into normal life.
Sam: I'll tell you where I saw a charging point the other day! I was in Liverpool and walked past a lamp post that was also a charging point.
Emma: No way! That's amazing. And if you're charging your car at night, you can actually see what you're doing. Winner.
What are the pros and cons of driving an EV?
Sam: For me, I'd say the environmental benefits are top of the pros list. There's so much going on in the world with wildfires, flooding, hurricanes and so on. The extreme effects of global warming are really having an impact. So, doing your bit to help for the future is so important.
I do still have my reservations about EVs but after this road trip, my charging worries have been eased a bit and I'm a lot more inclined to get an electric car.
Emma: The savings side is a huge pro too. I'm currently spending so much on diesel because of the mileage I do. I spend around £400 on diesel a month, so if I could make this cheaper that's a massive saving.
The EV driving experience is also a pro. It's so smooth, light, and easy to drive. There are definitely more pros than cons with the electric life.
What one piece of advice would you give to someone who is nervous to drive an EV and make the switch?
Sam: Test drive an EV. You need to experience how easy and stress free it really is. That will put your worries at ease.
Emma: Or, if your mate has an EV see if you can get insured and take it out for the day. You need to get behind the wheel and experience charging one firsthand.
And that's a wrap! Thanks a bunch for sharing your EV experience.
Sam: We're gutted the road trip is over.
Emma: We really enjoyed it, thank you! Thanks for trusting us with the Zoe [laughs]
Want to see more of Emma and Sam's journey? Check out their full vlog here!
Like the sound of the Renault Zoe? If you'd like any more info our New Car Consultants are on hand to offer you advice and help you make the right choice. Give them a ring on 0113 537 6841 (Option 1) or drop them email [email protected].
For more info on the EV life we have a handy EV Info Zone on our site. We've done all the electric vehicle research so all you have to do is read up and choose your new wheels!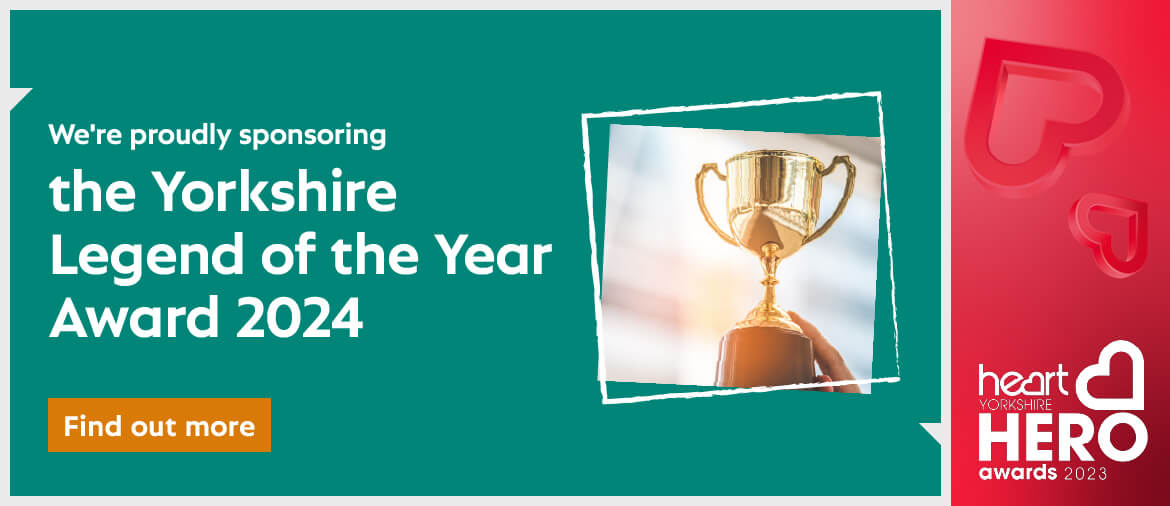 Posted on: 4th May 2023