An Interview with Lioness Bethany England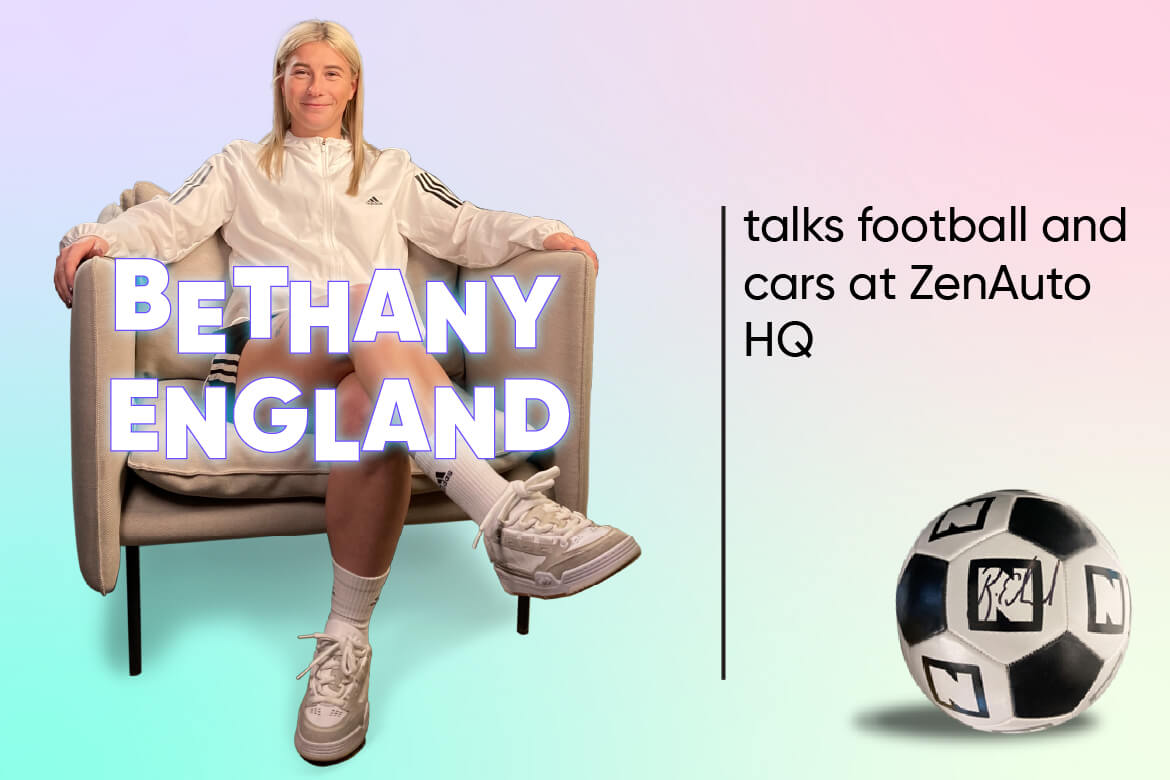 We had the pleasure of chatting with Tottenham forward and England lioness, Bethany England. It was like a conversation with an old mate – we love you, Bethany!
Learn all about her journey as a female footballer. From where it all started, to winning the EUROS in 2022 with the heroic England Women's team.
Oh, and you'll also hear how Bethany's shiny Volvo XC60 helps get her to those all-important games.
3…2…1 kick off!
Bethany's football journey, so far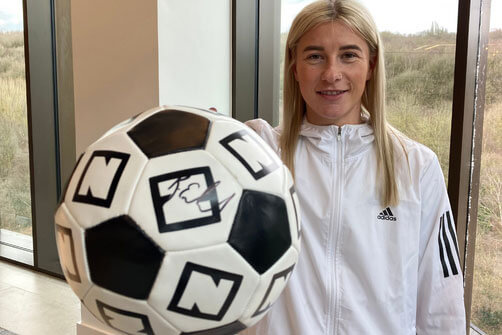 At what age did you start playing football and how did you get into it?
I started playing football around the age of 5-6 years old at my grandma's house, with my twin sister. We just played on the street with one of our friends. I fell in love with it ever since.
What was it that attracted you to football?
I think what attracted me to playing football was just the enjoyment of the sport and playing in a team environment.
I enjoy winning things.
I'm a really competitive person, so to be able to share experiences like that with fellow sports people is great.
As a young person, who were your idols?
Male wise, Steven Gerrard – I'm a huge Liverpool fan. I've always loved him ever since I was a kid.
His aura, his experience and his leadership on the pitch would just shine through for me.
Female wise, it was always Rachel Yankee. She was in the England women's team and played for Arsenal for several years.
What was it like growing up with little to no support for female football?
When I was younger, it was quite hard trying to imagine being a professional footballer since there wasn't much women's football out there online, or on TV.
So, I think limitations were there.
But thankfully, as I've gotten older, the game has gotten much faster for women's football in terms of exposure. There's now more of a career path for female footballers.
Can you tell us a little bit about some of the challenges you and your teammates faced growing up with little to no support?
The biggest challenge was being able to provide the correct types of facilities, staffing or even pitches for female footballers.
Usually, football is associated in the men's world and as a boy's sport.
So, I think it was just about making sure that there were enough grassroots female teams – or even coaches – that wanted to be involved in women's football.
When I was as a kid there were hardly any women or girls' teams playing. So, naturally most girls my age would have started off in the boys' teams because of that.
The game has grown a long way from back then and thankfully we're not seeing as many issues now.
So, on that point, flash forward to 2023 and the popularity of women's football has grown tremendously. Can you tell us how things have changed since you started playing to now?
Yeah. God, women's football has changed drastically since I first started.
These days kids have the luxury of going to stadiums and seeing their favourite teams or watching their favourite players on TV. You get more fan to player interaction. It's just everywhere now.
Women's football is finally given the platform that it deserves. When I was a kid, you were lucky if you got to see one female game on TV a year, let alone every weekend.
We're now shown the whole season of games, so I think it has come a long way.
A lot more funding has gone into women's football too. In terms of grass roots through to the senior teams, coaching and refereeing – all these things have grown drastically for women's football and it's only going to keep on growing.
And obviously the EUROs probably had a big impact on that as well in terms of exposure and more people getting into women's football.
Yeah, the EUROs were huge for us.
I think it really touched the nation and probably helped more people get into football than before.
I've spoke to a lot of people that said they didn't even follow women's football that much.
And then, as the summer progressed and the further into the tournament we got, they found themselves really getting behind us. And now many support their local women's teams and go watch their games.
You can see different aspects like that in which the games grown and, like I say, drawn in more attention and a fan base. It's a really family orientated fan base I find.
What does it feel like being an influence on the popularity of women's football and being part of that growth?
It's surreal for me to see myself as an influence and being a bit of a role model to younger kids.
I just see myself as the normal girl from Barnsley who just loves playing football and doing her job.
It's still a kind of a pinch yourself moment, realising you are such a role model to these little girls.
Their parents pay good money to come and watch you week in, week out, get your shirt with your name on the back and things like that.
Even just taking the time out to have a selfie or a video with these fans, it means so much to them.
It's really humbling to know that you have such an effect on someone's life, but also that you are living proof that these kids can achieve these things as well, which is something that I didn't necessarily have as much growing up.
What advice would you give to young people interested in football?
For any young person wanting to get into football, first and foremost, they have to enjoy it.
If you don't love the sport, then it's quite hard to stick at it.
For some people it's OK to just play casually, but if you're serious about it you have to obviously make a bit of a commitment with it.
And the biggest commitment you probably have to make, which I'm very keen on, is making sure that you still enjoy it, and you are happy doing it.
Life isn't easy.
You have your ups and downs within football, but you still ultimately have to go to work every day and know that this is what you want to do.
This is where you want to be.
So yeah, it takes a lot of hard work, sacrifice and commitment.
I've missed numerous nights out, parties and weddings because my job had to take priority.
At a young age, I would say don't focus too much on being there just yet. Just enjoy it for now.
But also know that when you get to a certain age, there's going to come a time where if you really want to make it in the football world you will have to make those sacrifices.
And it will all pay off in the end.
So, moving back to the EUROs again, what was the first thing you did to relax once they were over?
The first thing I did to relax, I don't know if I can say this. I got very, very drunk.
It had been a long, tough summer.
Obviously as amazing it is to everyone else on the outside, it is a very tough environment to be a part of.
We were away from family and everything for such a long period, plus there were camps leading up to the EUROs too.
It was literally get on a flight, get on holiday and relax.
I just tried to mentally have a break from everything that had just happened.
From that final, our world's changed overnight on what we were seen as and who we were seen as. So yeah, it was pretty surreal.
When you're looking forward to those big games, especially the EUROs, what do you do to prepare?
I think you have to take each game as it comes.
It's very cliche that it's one game at a time, but it really is true in the sense of you can't look too far ahead and you have to prepare for what's in the here and now.
I like my music before a game starts, so I get myself in a zone where I'm quite chilled.
It's worse if you're on the bench than on the pitch because you're watching things that other people aren't seeing. You're feeling like you can't affect anything by being sat there, so its different emotions going on all the time.
But yeah, I think ultimately, it's just a case of it's just another game. As long as you can put your best performance out there, it's going to be OK.
Looking ahead, what is the next challenge you're setting yourself personally?
I'd say the next big challenge would be trying to get into the World Cup squad this summer.
It's been a dream of mine to play in the World Cup for my national team since I was a little girl.
When I was a little girl, I didn't think it was possible, and now that opportunity is here.
It's just about keeping my head down, working hard and showing the manager that I deserve to be on that plane.
And what are the biggest obstacles you'll need to overcome to achieve that goal between now and then?
The biggest obstacles to achieve that? I guess it would be whether a manager wants to take me or not.
I can only play my best. So, I just need to make sure that week in, week out, I'm performing on the pitch, that I'm scoring goals and that I'm doing everything that's asked of me in order to warrant getting on that plane.
Obviously, I need to be on top form, and I need to stay fit and injury free too.
Bethany's life away from football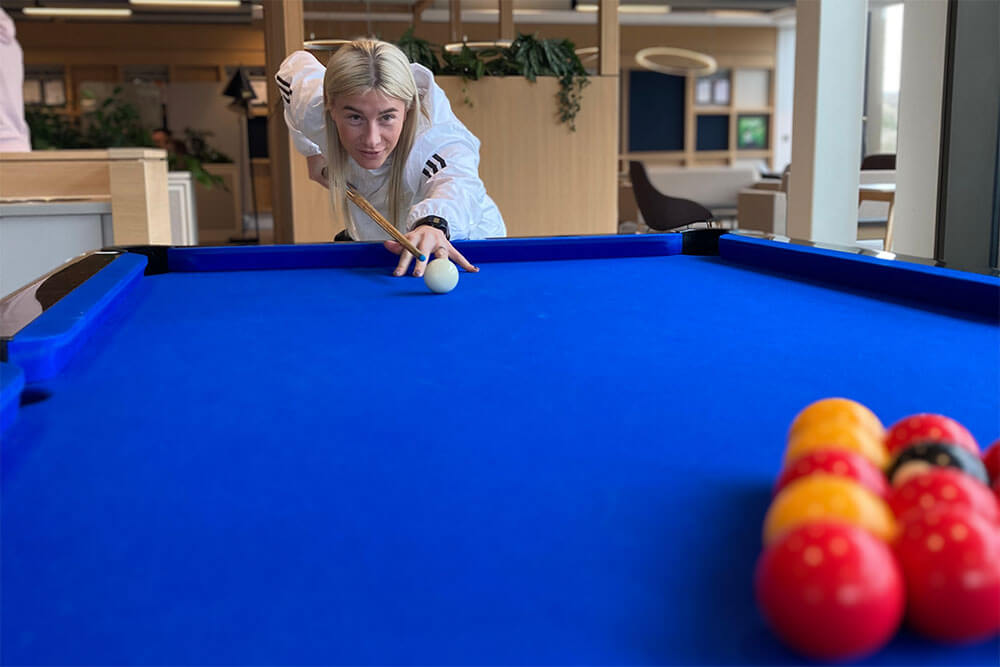 What do you do in your spare time? When you're not playing or training.
So, in my spare time, obviously everyone knows me mainly for my dogs.
I'm usually out a lot walking with the dogs or I really do like going out and playing games. I like pool, a bit of top golf and bowling.
Anything active I enjoy doing or even going to the cinema – I'm really into films.
And how does having a car impact these activities? Going to the cinema and visiting friends and family, for example.
Yeah, obviously the car for me is huge.
Getting from A to B, it's a necessity.
I live very far from my hometown and I'm not very good at public transport.
Getting to and from home in a comfortable car that you know is going to do well on a on a motorway is a big thing for me.
And just getting to the generic day-to-day stuff, it makes a big impact rather than having to rely on other people and public transport, which I'm not a fan of.
I don't like waiting on things.
Having a car definitely makes life much easier.
What are your favorite places to visit in the UK in your downtime?
I really enjoy going to Wales. One of my favorite places to visit in the UK is when we go back to my partner's hometown in Swansea.
They've got lovely beaches and walks there. I really enjoy being around all the Welsh people and their language.
Coming back to Barnsley, I get to see my family and my best friends. It's really fun and obviously I'm very proud of where I'm from.
So, it's nice to come home and relax when I do get a bit of time to myself.
Do you drive to Wales with the windows down, sun shining and music playing?
Yeah, I do love a long drive sometimes because I like my music.
Listening to different types of music and finding new music is a bit of me.
Sometimes I get a bit of travel sickness and my partners gets it as well. So, we're always fighting on who's going to drive where.
But yeah, there are some lovely scenic views on the drive to Wales.
Partnering with us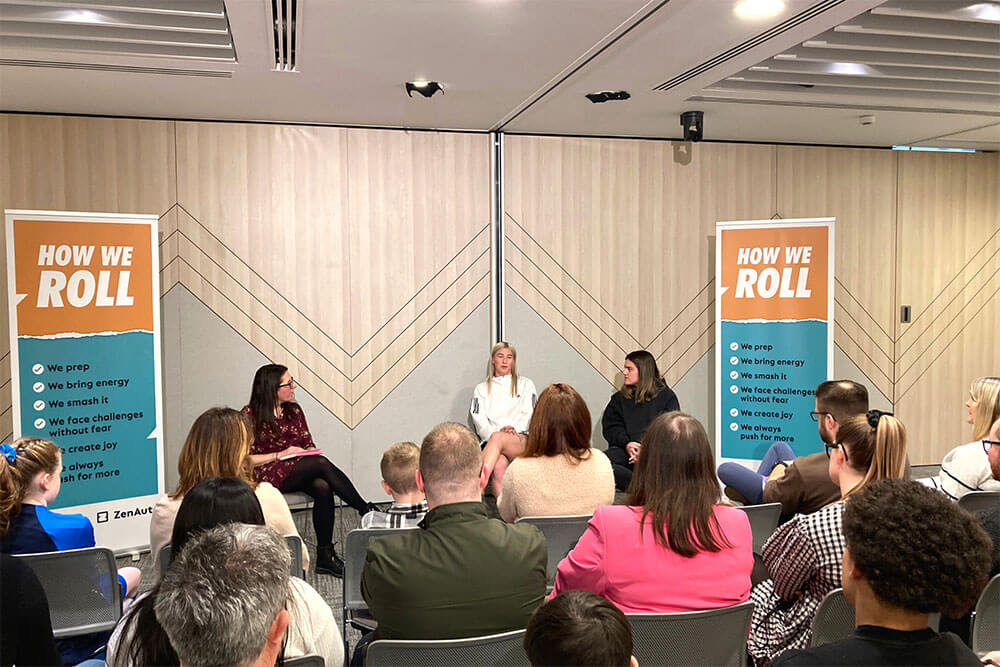 Why did you want to work with ZenAuto? What was it that appealed to you?
When ZenAuto got in contact one of the biggest things that appealed to me was their family environment. And that they're very diverse.
I think it's important to put across these good values, especially online to the world that we're in right now.
A lot of things are online, so I think it's good to help share through them, and myself, both of our stories and values to everyone that follows us.
They've helped me with a really great car that keeps me going from A to B, which is essential for my job.
Plus, we both really want the best in our industries.
What have you been up to in Leeds today?
I've visited the head office of ZenAuto. It's been an amazing day.
Everyone's been super lovely. I've done a Q&A with the staff here and met some of them, and their children, which was really nice.
It was great to speak with them. I answered questions about my journey as a footballer, my career path and even got down to the nitty gritty of some struggles in life.
I think it's important that people don't just see me as a footballer.
Ultimately, I'm a human first and that everyone goes through hardships, whether that's in a workplace or on a football pitch.
It's been an interesting day getting to speak to the Zen team and seeing how their day-to-day life goes as well.
Thanks a bunch to Bethany for taking the time to speak to us!

Fancy the sound of the Xc60? Browse our Xc60 lease deals all from the comfort of your sofa.
If you'd like to stay up to date with her football journey, gorgeous doggos and her XC60 adventures go ahead and give her a follow on Instagram -> @bethanyengland4.
Posted on: 20th March 2023