The Fastest Women in Motorsport History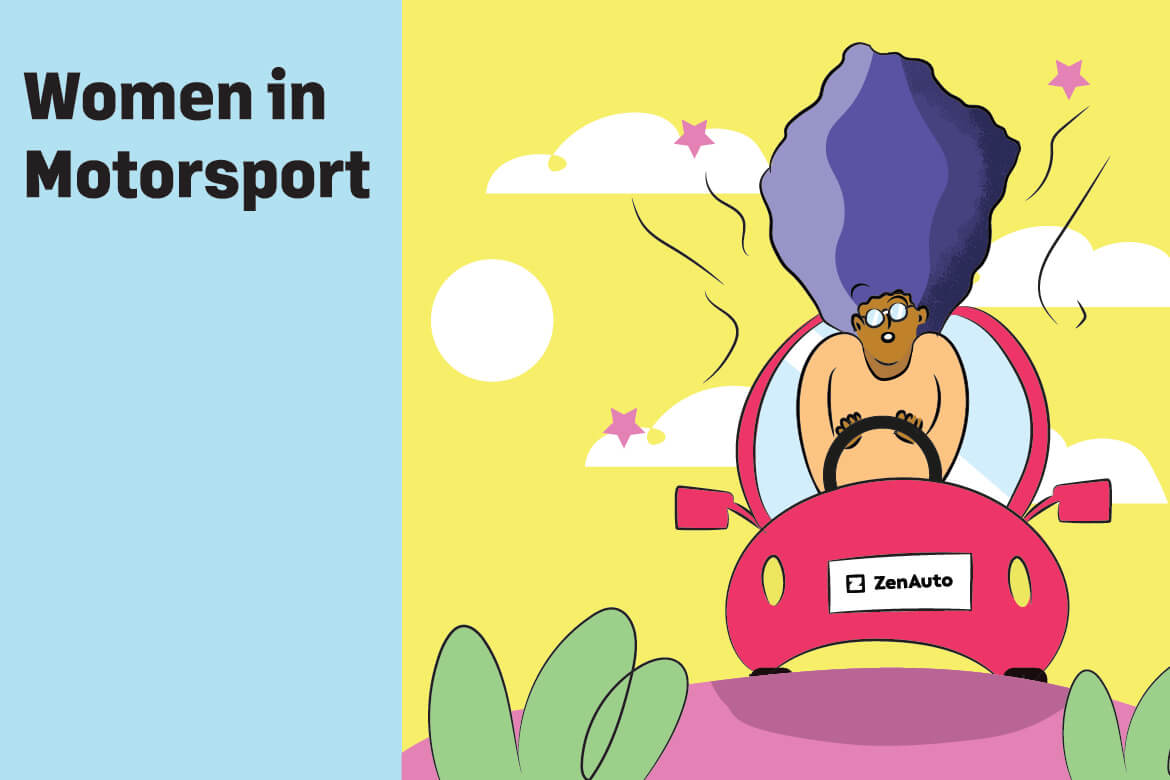 With International Women's Day just last week, we're celebrating some of the leading women in motorsport history.
It's no secret that we're totally car obsessed over here, so we really enjoyed finding out about these racing legends.
Lights out and away they go!
Maria Teresa de Filippis
Maria Teresa de Filippis was an Italian racing driver and the first ever woman to compete in a Formula One World Championship race. So, she's a pretty big deal.
She was born in Naples, Italy in 1926.
Growing up Maria Teresa de was more interested in horses than cars. That was until her brother's bet her that she could never drive as fast as them.
Accepting the challenge, she took the wheel and won the first race she entered at 22 years old.
She took on the 10km Salerno-Cava de 'Tirreni 500cc class of the touring car category in a tiny Fiat Topolino.
Fast forward 10 years and Maria Teresa de Filippis completed her first Formula One World Championship Grand Prix in Belgium. This time in a Maserati 250F.
After sadly passing away in 2016, her legacy lives on in the values of Maserati and her pioneering spirit continues to inspire women across the world.
Anne Hall
Anne Hall – one of Britain's best rally drivers – had an impressive racing career spanning the second half of the 20th Century.
Born in Huddersfield, West Yorkshire in 1919 Anne's father was the main Jaguar dealer in the north of England.
Hall grew up with his passion for cars and was gifted a Wolseley Hornet along with a driving test for her 17th birthday.
Starting her competitive rallying in her 30s, Anne entered the 1951 RAC rally where she finished seventh overall.
Across her career she took part in all the major long-distance rallies, drove for six work teams – including Jaguar and Ford – and, in 1956, was crowned European Ladies Rally Champion with her co-driver, Sheila van Damm.
After retiring from professional rally driving in 1964, Anne set up an advanced driving school which she ran until her 80th birthday.
She was lured back into the rally driving seat in 1988. At 72 she won the women's section in the Pirelli Classic Marathon, a 2,300-mile round trip in the Alps.
Hall eventually retired in 1997 only after competing in several more rallies of course. Grandmas don't get much cooler than that, right?
Janet Guthrie
Born in Iowa City, Iowa in 1938, Janet didn't find her passion for car racing until the 1960s.
Prior to this, Janet's interests were flying and physics – she started flying planes when she was 13 and earned her pilot's licence at 17.
After finishing her degree in 1960 she started work at Republic Aviation as a Research and Development Engineer.
The car she bought to get to work – a 1953 Jaguar XK120 M coupe – sparked her passion for sports cars.
In the 1960s Guthrie began racing regularly and enjoyed increasing success on the Sports Car Club of America circuit, racing in a Jaguar XK 140. She even built her own engine and did her own bodywork.
By 1972 sports car racing had pulled her away from her career in science as she began to race on a full-time basis.
In 1977 she became the first women to qualify and compete in both the Indianapolis 500 and the Daytona 500.
Guthrie deservedly gained her spot in the International Motorsports Hall of Fame in 2006 – what a woman!
Sabine Schmitz
German racing legend, Sabine Schmitz, must be on our list.
Schmitz was crowned the 'Queen of the Nürburgring' after becoming the only female racing driver to win the Nürburgring 24 hours – twice in 1996 and 1997 – and being the first female winner of the VLN Nürburgring endurance series in 1998.
Sabine was born in 1969, in the village of Nürburg, just 300m from the circuit.
At the age of 13 she had her heart set on becoming a racing driver. At 17 she first completed the famous main track of Nurburgring, Green Hell.
Sabine then went on to compete in amateur races before joining a BMW team in the early 1990s.
Schmitz was a trailblazer and made herself known in the male dominated arena.
Appearing several times in Top Gear, Schmitz gained further popularity and recognition, becoming a cult icon with other TV appearances.
In 2021 Sabine tragically passed away after battling cancer.
Her energy and talent will forever have a place in the motorsport world.
She leaves an amazing legacy behind, paving the way for so many aspiring females in motorsport.
Amna Al Qubaisi
Amna Al Qubaisi is an up-and-coming name we're looking out for in today's racing world.
At just 22 years old, her list of racing achievements is pretty impressive:
2018 – the first Middle Eastern woman to compete in a Formula E test programme in Saudi Arabia
2019 – the first female Arab to win a Formula 4 race at F1 Grand Prix
2021 – the first female Emirati F3 driver
Born into a motorsport mad household in March 2000, Amna is the daughter of Emirati race car driver, Khaled Al Qubaisi.
He made history when he became the first Emirati to compete at the legendary 24 Hours of Le Mans race in France, claiming two class podiums.
With her father as inspiration, she began her racing journey on a go karting track at just fourteen years old.
Fast forward three years and in 2017 she became the first Arab girl to participate in the UAE Rotax Max Challenge championship in karting.
Graduating from karting to formula racing, Amna is now working her way up to reaching Formula One.
We can't wait to follow her journey as she breaks down barriers and creates opportunities for female drivers internationally.
Interested in watching the next generation of female racing legends rip up the track?
F1 has just launched a new all-female series called F1 Academy. The category aims to prepare young female drivers to progress through the ranks. The campaign will kick off in April, running until October this year.
This new opportunity is a step in the right direction to increase female representation in the motorsport industry.
For International Women's Day 2023, we celebrated the leading women driving ZenAuto forward. You can hear all about their experiences as female leaders in the automotive industry.
Posted on: 16th March 2023